To celebrate World Wildlife Day, this week we've asked our community to share photos on Twitter showing how they are using tech in the field or the lab, using the #Tech4Wildlife hastag.
We've been blown away by the response. More than 200 participants have shared 263 photos and videos showing how they're using tech in the wild. These have been shared 1,643 times, received 4,231 likes and reached over 208,000 people. 
We've seen proximity loggers on Tasmanian Devils in Australia, open source sensors monitoring penguin colonies in Antarctica, Smart Parks in Africa, tiny tags tracking desert bats in Kenya, drones studying orangutan nesting habits in Indonesia and camera traps capturing Jaguar in Bolivia. We've collated all the entries in Twitter moment, so check it out to scroll through the full array of photos shared. 
Photos came in showing tech in the wild all over the world, but we were curious to see where everyone in the #Tech4Wildlife Photo Challenge was joining us from in real time. So we created a visualisation in Carto to show the tweet locations over the week.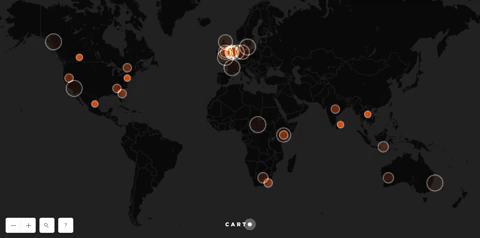 Our 10 Favourite 2018 #Tech4Wildlife Entries
To celebrate World Wildlife Day on March 3, we counted down our ten favourite entries from the hundreds of photos shared with the hashtag. But before we get into our countdown, there are a few fantastic projects and people we wanted to mention who we couldn't rightly feature in our countdown. 
Firstly, we wanted to give a shout out to our two HWC Tech Challenge winners: Shadowview Foundation and Alasdair Davies from the Arribada Initative, both of whom shared photos of their #Tech4Wildlife in this year's challenge.
The the Shadowview Foundation team of Laurens, Tim and Jeroen won the HWC Tech Challenge Elephant Case with their Smart Parks proposal, an advanced IoT sensor solution to protect wildlife from poaching and efficiently manage large conservation areas. They joined the photo challenge to share a video introducing this work. 
Our second HWC Tech Challenge Winner, Alasdair Davies. joined the #Tech4Wildlife challenge to share photos of his recent trip to Antarctica where he was deploying Raspberry Pi zero cameras to monitor the status of adelie and king penguins. 
While Alasdair was in Antarctica, he was fortunate enough to find some penguins willing to assist with some tests of the thermopile sensor, his winning idea for the HWC Tech Challenge.
We also want to put a brief spotlight on Sophie Maxwell and Rachel Kramer who joined the challenge as participants this year. They lend their considerable expertise to the leadership team here at WILDLABS while also developing cutting edge conservation tech programs in their organisations. 
In her photo challenge submission, Rachel Kramer shared a WWF project to develop a thermal and infrared Park security system that uses AI to detect intrusions round the clock. If you're interested in finding out more about this system, we have been following the project as it's evolved in a case study on WILDLABS.
Meanwhile, Sophie Maxwell used #Tech4Wildlife to share her work with ZSL, where her team is working with Google to develop a new platform to make AI accessible to all conservationists and speed up image recognition for wildlife monitoring. This proved to be one of the most popular entries of the challenge, with a member of Google's Tensor Flow team even chiming in the discussion to offer his help to embed the algorithms onboard devices like camera traps. 
With these special mentions done, it's time for our World Wildlife Day countdown of our favourites from this year's #Tech4Wildlife Photo Challenge!
10. Julie van der Hoop: Testing tag drag on Dolphins
There was a very strong showing from our marine contingent this #Tech4Wildlife Photo Challenge. Julie's work was one in particular that caught our eye, sharing an experimental setup that will test the effects of tags and drag on dolphins. While we often put tags on animals, we don't always know how it affects them, or the measurements that we record. Julie shared that her research is currently in review - so stay tuned! 
9. Robert Long: Scent Dispenser for Camera Trapping
Coming in next was Robert Long, who shared a really nice camera trap photo but added a twist that set it apart. He's created a scent dispenser to allow camera monitoring of species in difficult to reach locations.
He subsequently shared that this is actually a project with Woodland Park Zoo, Microsoft and Idaho Fish and Game, and they've good big plans for it! Stay tuned, you'll hopefully see some more of this project on WILDLABS in coming months. 
8. Holly English: Biologgers to study African Wild Dogs
Holly English snuck in with her #Tech4Wildlife Photo Challenge entry just before World Wildlife Day, and we're glad she did. She's using biologgers feat. tri-axial accelerometers and magnetometers to study African wild dogs. 
I use @MovingAnimals Daily Diary biologgers (feat. tri-axial accelerometers and magnetometers) to study behaviour, energetics and fine-scale movement in African wild dogs and other canids #Tech4Wildlife @WILDLABSNET pic.twitter.com/T19CqXdWtw

— Holly English (@Lycaonpictus93) March 2, 2018
We particularly appreciated how informative Holly's photos were about her #Tech4Wildlife and how willing she was to share her knowledge when asked about the tags. (To be fair, most participants in #Tech4Wildlife and WILDLABS share this quality).
7. Adrià López-Baucells: Tracking Desert Bats with tiny GPS Tags
Adrià López-Baucells is next with his GPS-tagged desert bat Lavia frons in north Kenya. This species is a challenge to track as it's at the limit of the acceptable weight, so tagged individuals are chosen carefully. 
We also were delighted to see Adrià using the #Tech4Wildlife challenge to connect with other participants working in his region. Part of our aim in running this photo challenge is to encourage sharing and connections like these.
6. RSBP: Developing bespoke and off-the-shelf tech for birds
Coming in next in our #Tech4Wildlife photo challenge countdown is the team from RSPB Science, who use both off-the-shelf tech and build their own bespoke kit to protect critically endangered species like Gough bunting.
The RSPB team are using #Tech4Wildlife in the form of GPS tags to track Curlews during breeding season. Curlews are now considered the UK's most pressing bird conservation priority, having declined 48% in the UK since 1995.
They wrapped up their entry with a final example of their innovation in #Tech4Wildlife: a speaker system used to great effect around the globe to attract seabirds, including terns, shearwaters, petrels, back to islands to breed.
Honourable Mentions
There was some strong competition amongst our top five for the #Tech4Wildlife photo challenge this year. Before we get into these, we'd like to recognise a couple of participants with honourable mentions.
Longitude181 with this incredible #Tech4Wildlife photo by Veronique Sarano of François Sarano undertaking acoustic and behavior studies of sperm whale.
David Hamilton who is using #Tech4Wildlife proximity loggers to understand how Tasmanian Devils interact with one another and how that influences the spread of devil facial-tumour disease.
Adventure Scientists who mobilise volunteers from the outdoor adventure community to gather difficult-to-obtain data at any scale, in any environment for their conservation partners. The work by these volunteers has led to the discovery of more than three dozen new species, provided key information to guide climate change decision-making, and helped protect threatened wildlife habitat.
Our final honourable mention goes to @begambilia, for a rather late (it came in just hours earlier) but fascinating entry showing the infrared tech used to study the mother-pup behavior of the tequila bat in Mexico.
with infrared technology I study the mother-pup behavior of the tequila bat (Leptonyteris yerbabuenae) inside caves in the Sonoran Desert, Mexico.@WILDLABSNET #TECH4WILDLIFE pic.twitter.com/922nDgKFa4

— Ñ (@begambilia) March 4, 2018
5. Vanessa Pirotta: Drones for Capturing Whale Snot
Taking out fifth spot in our #Tech4Wildlife photo challenge countdown is Vanessa Pirotta, with her custom-built waterproof drones that she's using to sample whale snot from northward migrating humpback whales off Sydney.
Vanessa and team developed the low-cost multirotor UAV incorporating a sterile petri-dish with a remotely operated 'blow' to sample whale blow with minimal disturbance to the whales while reducing possible sample contamination.
4. Shah Selbe: Open Source Tech with Conservify
Shah Selbe took out fourth place in our #Tech4Wildlife Photo Challenge countdown. He took to the Challenge to share some of the work that he's doing with Conservify, sharing projects from Antartica, Belize, Canada, Amazon, the Republic of Congo & Peru.
Highlights from @shahselbe's #tech4wildlife challenge post included an #opensource glacier seismic observatory he and the @conservify team built on the Bow Glacier in @BanffNP
A project where @shahselbe partnered with @RainforestCx, with support from @InsideNatGeo and @SMTPSF, to develop low cost #opensource buoys to monitor #MPA for fishing and vessel traffic #Tech4Wildlife
And @shahselbe also hinted at a project he's been working on to develop #opensource wildlife GPS tags that could potentially have a significant impact on the tracking industry.
@shahselbe's full entry included these and a whole lot more of the innovative #Tech4Wildlife projects he's been working on. To find out more about his work, check out his full post. 
3. Blair Costelloe: Tech for Ungulates
Taking out third place in our #Tech4Wildlife photo challenge countdown is Blair Costelloe. She is using variety of tech to try to understand the collective and anti-predator behaviour of ungulates on East Africa's savannahs.
This is actually the second year Blair has taken out third place. One of our all time favourite #tech4wildlife entries earned her third place in our first #Tech4Wildlife challenge back in 2016.
Although we were delighted to see Blair's robot cheetah make a brief appearance in this year's #tech4wildlife photo challenge...
It was her detailed explanation of her work and the #tech4wildlife tools (drones, image annotation, machine learning) that she was using that earned her this position in the countdown.
We appreciated that Blair took the #tech4wildlife photo challenge as a chance to signpost her process for the benefit of others potentially thinking about using drones in their work. We look forward to hearing more! See Blair's full post. 
2. Ed Miller: The Bear ID Project
If Blair sign-posted her process, then the runner-up in our #tech4wildlife photo challenge took this to a whole other level. Ed Miller takes out second place with his Bear ID Project entry.
Ed's day job is in software and hardware development, but in his spare time he has been working on a #tech4wildlife project using computer vision and deep learning to identify individual brown bears.
Ed's open source Bear ID Project started in Jan 2017, initially focusing on the Bears of Brooks River. The first step was to understand how the experts identify individual bears. After reviewed some existing deep learning and computer vision projects aimed at identifying animals in the wild, he decided on an initial approach based on FaceNet, but for bears. 
After trying different software packages and methods (YOLO, dlib, HOG and the dog hipsterizer), they came out with BearID 1.0. It was a good start, but they still needed more data to improve accuracy.
It was around this point that Ed joined the WILDLABS community, literally within hours of Melanie Clapham, founder of the Brown Bear Research Network, who was keen to figure out how to use Machine Learning to ID her bears. It was a match made in heaven. 
Ed and Melanie have since joined forces: Hypraptive (Ed) provides the computer science and deep learning experience and the BBRN (Melanie) provides brown bear expertise and connections to the bear viewing community. 
Now, we had to share this full story as it's such an exciting collaboration to come out directly out of connections made in our #tech4wildlife community, but we actually selected Ed's entry as our second place for a separate reason. Ed's #tech4wildlife photo challenge entry caught our attention because he's put so much work into documenting the whole project in detail, sharing every step along the way. This included how he built a deep learning computer..
And how he used Davis King's dlib Dog Hipsterizer example to detect and align bear faces
Congratulations Ed and the Bear ID Project! We look forward to seeing this project progress.
1. Duke Marine Lab UAS: In search of Minkes
The top spot in our #Tech4wildlife Photo Challenge 2018 countdown goes to Duke Marine UAS, who are doing extraordinary work using tech including drones, tags, hydrophones, lego, NIR imagery and rovers to further our understanding of the natural world.
Admittedly, Duke Marine UAS had rather an unfair advantage for this year's #Tech4Wildlife Photo Challenge, having just arrived in Antarctica for an expedition full of drones, tags, hydrophones and whales.
Duke Marine UAS are in Antarctica in search of minkes. Minke whales are the least studied top krill predator in Antarctica. Their team is working hard to change that, starting with getting some tags on these elusive whales. 
This top spot is shared with other members of the expedition with Duke Marine UAS, including the Goldbogen Lab who shared this spectacular action video of Dr. Ari Friedlaender deploying a camera tag to a minke whale.
Dr Friedlaender deployed the same tags a few weeks ago and got this stunning footage. 
In addition to Minke whales, Duke Marine UAS team have also been tagging Humpback whales while in Antarctica.
Duke Marine UAS are tracking humpbacks to study foraging behaviour in the context of a changing climate. This will feed into a NSF Long Term ecological research project at Palmer Station studying the entire antarctic Peninsula ecosystem. 
Congratulations Duke Marine UAS, and to everyone who joined us for the #Tech4Wildlife Photo Challenge 2018! It's been phenomenal to have so many people participate and to see all the ways in which you're using tech in the wild. To see all the entries, check out the full feed on Twitter. 
We'll see you back here next year for the fourth annual #Tech4wildlife Photo Challenge. Launching 25th February, 2019. We can't wait!
---
Want to share your own conservation tech experiences and expertise with our growing global community? Login or register to start posting!