Join the #Tech4Wildlife Photo Challenge
Are you using tech for wildlife conservation? Snap a pic this World Wildlife Day and post it with the #Tech4Wildlife hashtag.
Published Date:
2017/03/01
Are you ready for our annual #Tech4Wildlife Photo Challenge? On 3 March, we celebrate World Wildlife Day by asking our community to share photos showing how they are using technology in the field or lab, using the #Tech4Wildlife hashtag.
Last year, our community shared hundreds of photos and videos from the field. In the first 10 days alone we saw 1500+ tweets from 500 users, with 185 photos and 12 videos posted. We had everything from robot cheetahs, acoustic bat recorders in the middle of New York City, to mobile frog labs and portable DNA sequencers! Participants started by sharing their photos, but soon found themselves also passing on their experience as in-depth conversations sprung up around the capabilities of different technologies and the outcomes of the projects being shared.
Check out our 10 favourite entries from last year's challenge.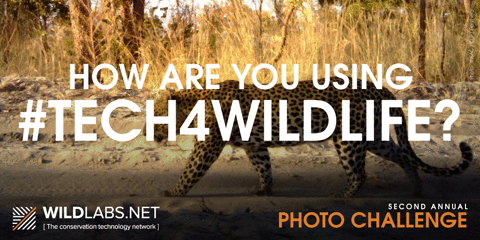 To participate this year, all you need to do is:
Take a photo of how you are using tech to help wildlife
Share it on Twitter: tell us a bit about your work and the tech featured
Remember to use the hashtag #Tech4Wildlife and tag us at @WILDLABSNET
We will feature the best images shared in our #Tech4Wildlife image feed on WILDLABS.NET.

We can't wait to see what you're working on!
Please note that if your picture includes children under the age of 18, by using the hashtag, you grant WILDLABS permission to use that image and represent that you have the authority to grant that permission on behalf of all pictured children.
By participating in the WILDLABS #tech4wildlife campaign through the sharing of photos on social media sites (e.g., without limitation, Facebook, Twitter, and Instagram), you grant WILDLABS the right to display your photo and/or post on the ##tech4wildlife webpage, in WILDLABS's discretion, and represent that you have all rights necessary to grant that right, including without limitation all necessary copyrights and permissions of those featured. If your photo contains images of children under the age of 18, you specifically grant to WILDLABS permission to use those images and represent that you have all necessary authority to grant such permission. If you have any questions about the use of these photos, please email us at community@wildlabs.net.